Junior Cycle Philosophy Short course



The Junior Cycle Philosphy Short Course curriculum is available from the NCCA website here
Temple Carrig School Greystones
Temple Carrig is one of a number of Irish Schools currently offering Philosophy classes using the P4C method. The gallery below shows some of the work and activities of the students.
You can download a sample lesson plan from our dropbox. This lesson looks at Freedom and Responsibility using the P4C method. There's no need to sign in, you can simply download the PDF.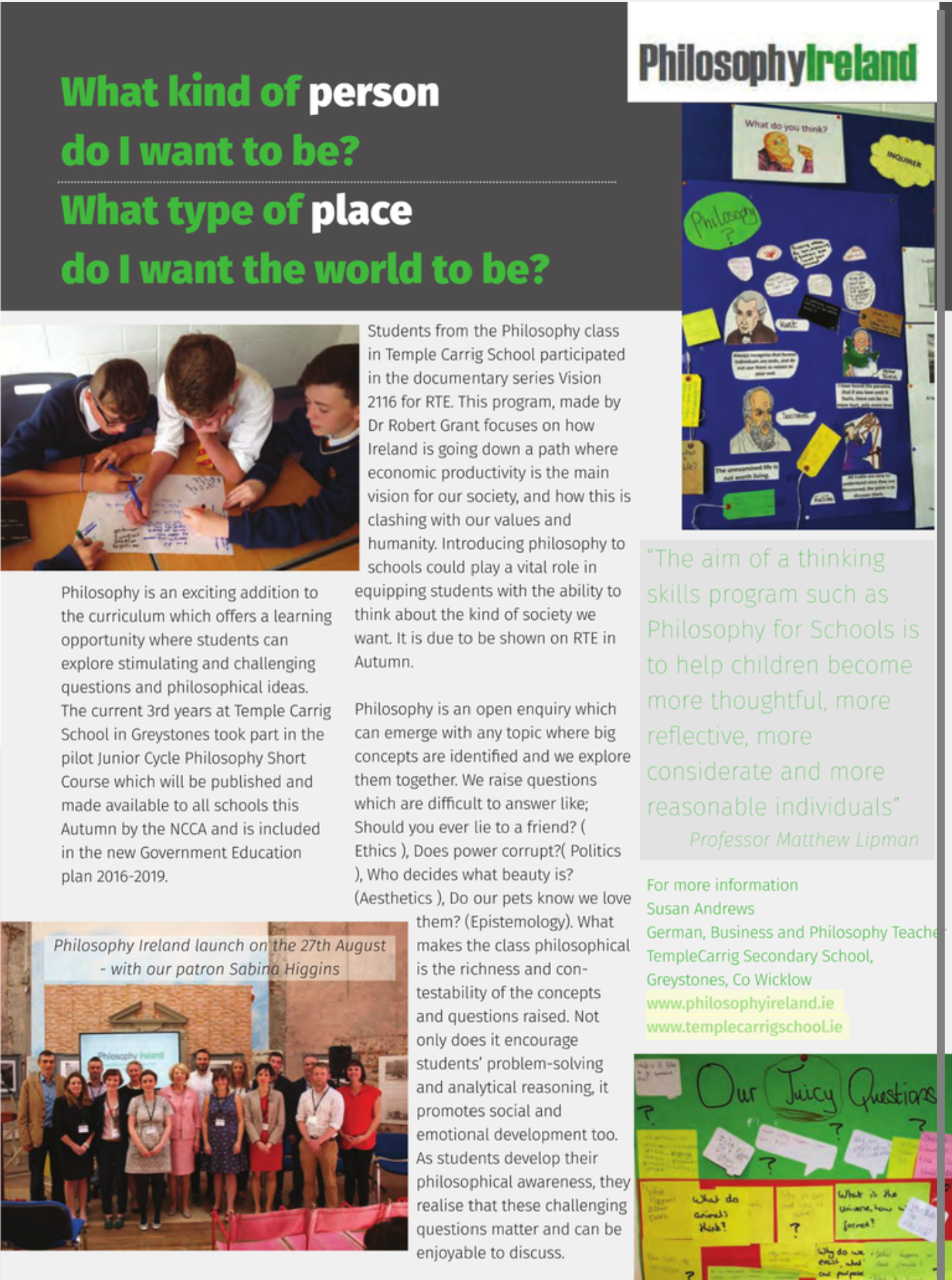 How 1st year students from Templecarrig describe their philosophy class
"Philosophy is the study of the questions that confuses us in everyday life. A philosophy class should look like a place that's comfy with plenty of beanbags a place where brains can be challenged. A philosophical question should be one that has many answers and can challenge many people."
"Philosophy is the way of thinking in which you think independently and critically so that you can answer questions yourself and learn to do things independently. A philosophical question is one with no definitive answer i.e. What does it mean to be alive? A philosophy class looks like a bunch of people arguing things that don't really matter, but doing it with passion. We should include philosophy in our curriculum because it teaches us how to think for ourselves, not just to repeat knowledge thrown at us."
"I like that we are free to express our opinions, and be heard, and that we aren't steered in any one direction. Other schools should try philosophy because it gives students a place to voice their opinions, which they might otherwise interrupt other classes with. It will make the students feel freer."
Some other useful places for resources
Wi-Phi (Wireless Philosophy) | Khan Academy (www.khanacademy.org)
Lots of good video resources for classes
60 Second Thought Experiments. 60-second clips animated clips that explain six famous thought experiments. Subjects as vast as time travel, infinity, quantum mechanics and artificial intelligence.