What is Philosophy Ireland?
Philosophy Ireland is an invitation to the people of Ireland (whatever their age, and whoever they are) to think, enquire, and reflect – to get philosophizing! Our mission is to support the development of philosophy in the Irish curriculum, universities, and wider community. Philosophy Ireland is passionate about philosophy. We believe that philosophy is for everyone. We believe that everyone could use more thinking time.
What is Philosophy?
Philosophers ask big juicy questions about who we are, what we know, and what we should value. In many respects philosophy is less a body of knowledge and more a way of seeing the world – including an ability to define and articulate concepts, identify assumptions, and think critically, analytically, and self-reflexively about our beliefs. It is an invitation to enquire. Philosophers recognize that philosophical questions can be difficult to answer but that doesn't mean there is no answer (it may even mean we need to shift or modify the question). Doing philosophy is about learning to articulate thoughts, providing justifications for them, and finding ways of disagreeing without being discourteous!
What does philosophy involve?
Philosophy encourages open and reasoned dialogue between people. It involves questioning the world around us. Philosophy challenges our assumptions, whatever they may be, and thereby deepens our understanding. This process is different from mere "debating" which involves convincing others of one's argument, whether or not that argument is based in reason. Rather, philosophical dialogue is not just about exposing flaws in argumentation; through thoughtful deliberation philosophers aim to shed new light on the big ideas and key concepts that have helped to shape civilisation and continue to inform our values and the way we live.
Who are we?
We are a network of teachers, philosophers, educationalists, and philosophy enthusiasts. We are working to establish school, and community level engagement in philosophy. Some of us teach a range of subjects at Junior Cycle and Leaving Cert level; some of us are engaged in research in Irish and UK universities. All of us are working together to establish school and community level engagement in philosophy. See our bios here.
Philosophy Ireland is supported by Philosophy Ireland Ambassadors. These include philosophy graduates Joe Humphreys of The Irish Times, and Dr William Crawley (BBC Northern Ireland and BBC Radio 4), as well as a host of other folk who are passionate about getting people to think.
What do we do? What are our goals?
Our goals are to promote philosophy in education through training, research, public engagement, and by establishing a collaborative network of resources, skills and talent. We are already working with Irish schools, universities, community groups, and with public agencies (including the National Council for Curriculum and Assessment, and Junior Cycle for Teachers) to these ends.
Philosophy Ireland at Áras an Uachtaráin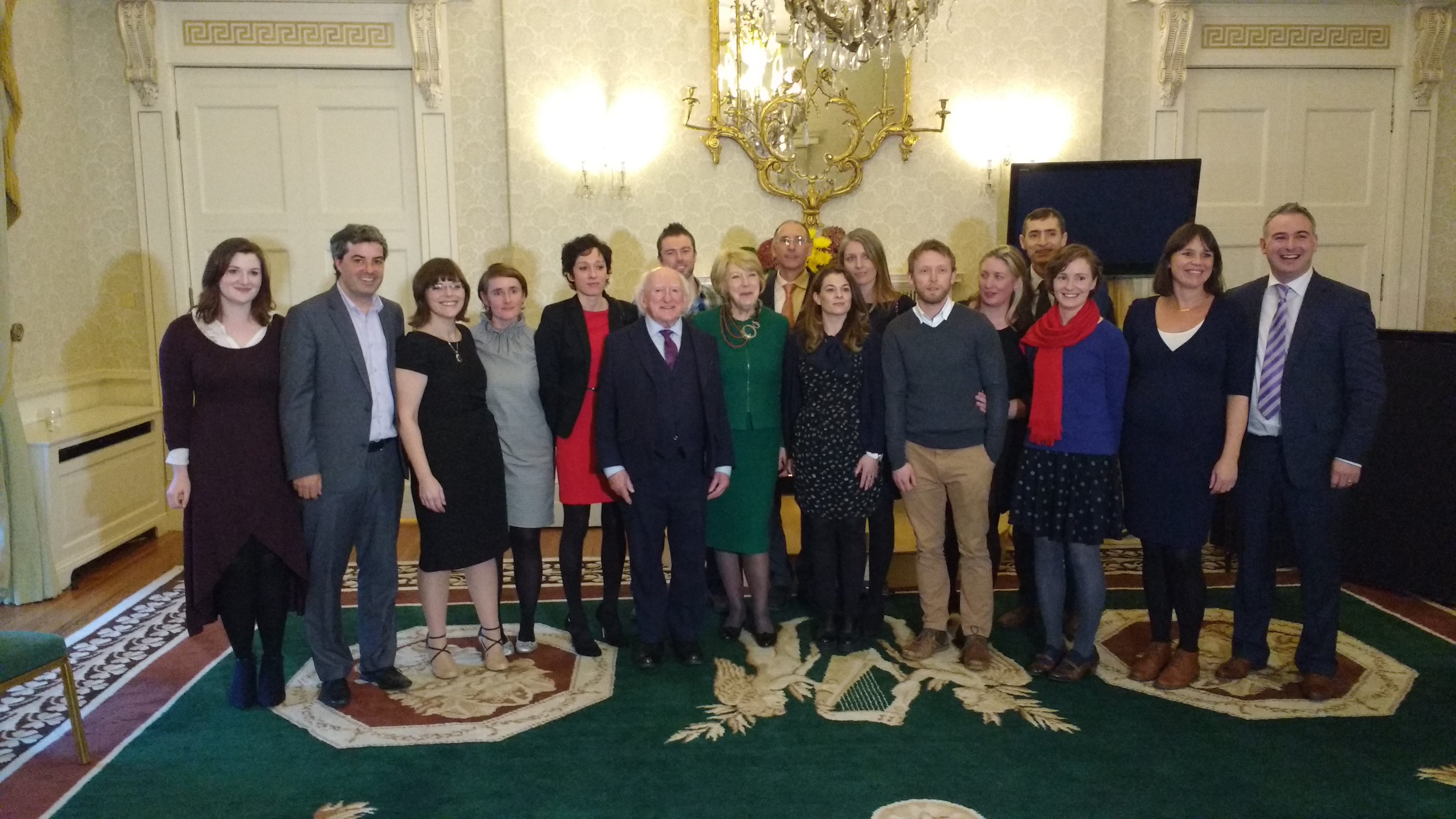 Philosophy Ireland were invited by the President Michael D. Higgins and Sabina Higgins to attend a reception at Áras an Uachtaráin on Sat 19th November to celebrate World Philosophy Day (which took place on 17th Nov. ) President Higgins spoke passionately about the importance of philosophy for society. Read the full text of his speech here
here
Philosophy Ireland Launch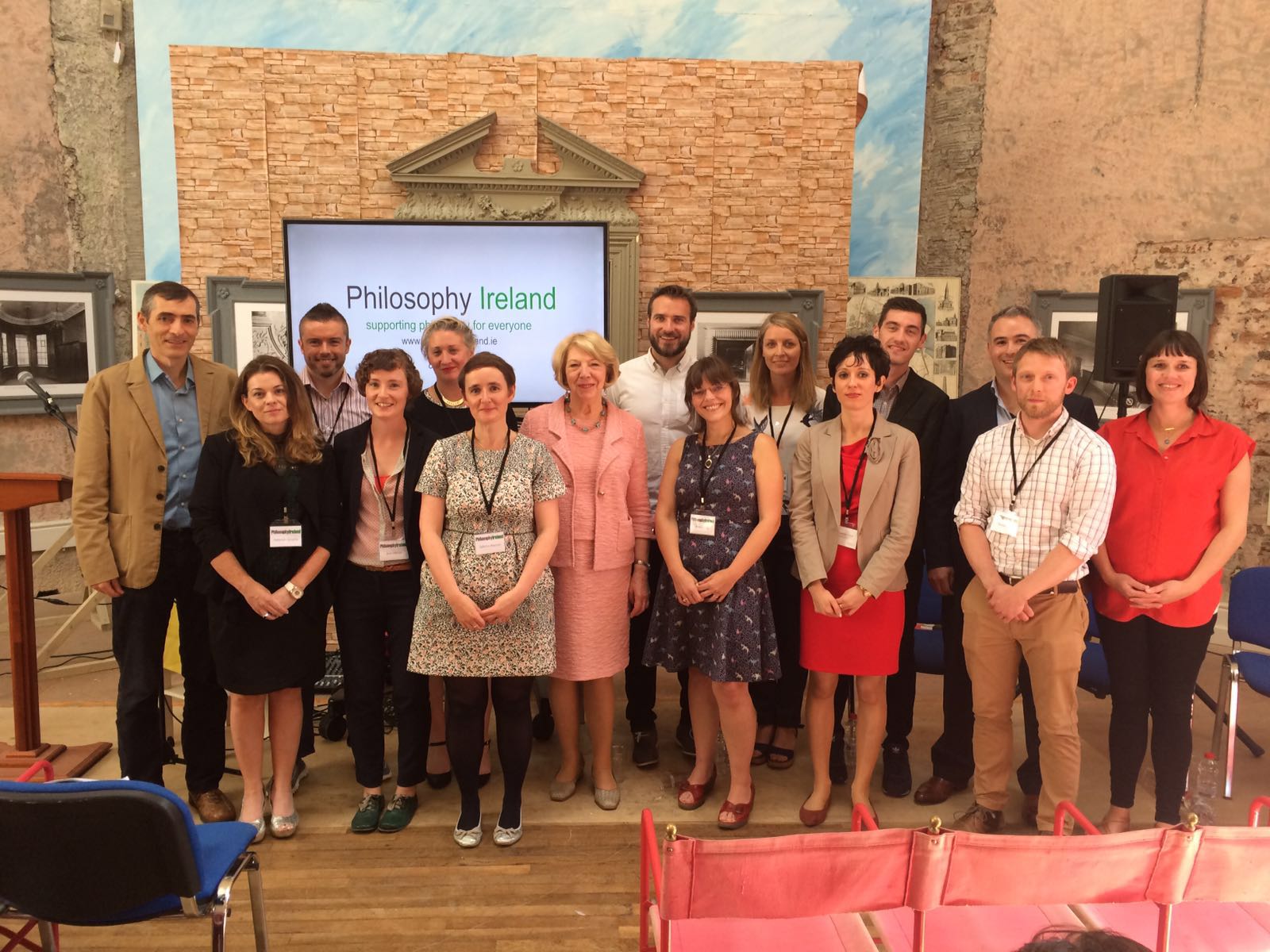 Philosophy Ireland and our Patron Sabina Higgins at the Philosophy Ireland Launch on Saturday 27th August at City Assembly House, Dublin. Read the Irish Times report here
For more pictures and cover see News and Media

November 2016: Philosophy Curriculum for Junior Cycle available here
Aug 2016: Read our blog from the summer workshop at the Institute for the Advancement of Philosophy for Children (IAPC) at Montclair State University in New Jersey. The home of P4C.

July 2016: Our Patron We are delighted to announce that Sabina Higgins has agreed to be our Patron! See Sabina's profile here